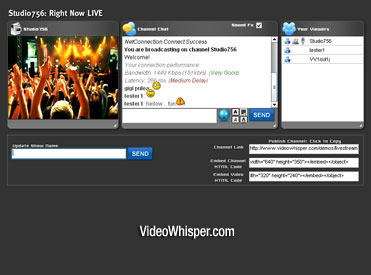 This live video streaming software is designed for 1 to many video broadcasting.  It is very useful for adding features like on justin tv, ustream tv, mogulus, stickam, blog tv, yahoo live or their clones .
This software was designed for 1 to many video streaming so there are 3 different interfaces:
1. Live Broadcast (for publisher),
2. Live Video Watch (for active viewers, discuss online),
3. Live Video Streaming (for passive viewers, simple live video).
Software is available with PHP source code for easy integration and as joomla component and module. Free trial available for download and testing on your own server.