The VideoWhisper Live Streaming software can now be easily used to add video broadcasting to WordPress sites and live video streams on blog pages.
To test a live demo of software on WordPress, just register a free account on this site and use the widget link from the right menu to start broadcasting.
If the user is not logged into WordPress a warning message is shown and the visitor can click that to get back to the main WordPress website for registration/login. We also included a plugin that provides a linking widget. You can use that or directly add a link to "http://www.your-site.com/videowhisper_streaming/" .
The widget also displays online broadcasters and their show names.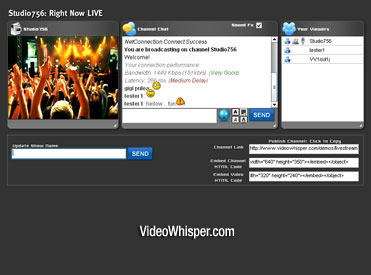 The watch screen logs in wordpress logged in users by adding a @ at end of username (so broadcaster can see & test his own video as a different user). Blog visitors will be able to participate in chat by providing a temporary username right in the chat application.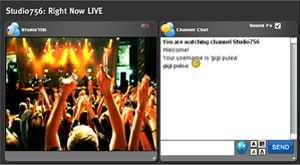 A free version of this component can be downloaded for free from the WordPress Live Streaming Software page.