VideoWhisper.com upgraded the Live Streaming application bringing several improvements and optimizations requested by users.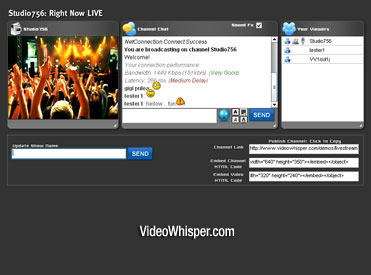 Some of the improvements:
advanced webcam settings (change realtime resolution, framerate, audio rate)
fullscreen button for video watching interface
fullscreen on click for embedded plain video stream interface
generate updated jpg snapshots for each live stream
timers (displayed on each interface depending on settings) can be used to control access, integrate in pay per view systems
multiple new options and parameters passed from script side
Also some RTMP application improvements should be mentioned like external player support and live video archiving as FLV for the Red5 application.
Upgrades are available for download on VideoWhisper.com and do not involve any costs for free or paid licenses.
First edition available with the upgrade is the PHP edition. The rest should follow shortly.