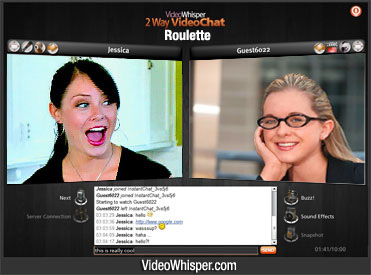 See the advanced chat roulette turnkey script in action on Video Encounter, a new live website that brings you face-to-face, via webcam, with an endless stream of random strangers all over the world. You need to bring some friends for testing if no one is online.
Also see Embed Chat Roulette page and Webcam Chat Logs with Snapshots .
Also if you are a Facebook user, see the Video Encounter as Facebook Application (downsized to fit) and Video Encounter Application Page on Facebok.
There is also a Joomla chatroulette clone that is easy to install as Joomla 1.5 component and provides simple implementation for Joomla users.
Why is this script better than regular chat roulette clones?
Very Reliable: Most chatroulette clones and alternatives can only connect users over P2P which often fails or generates huge latency for regular connections. With this applicaiton, when direct P2P connection is not possible due to user network/firewall settings the streaming is done trough a relay streaming server.  The site is available to users that can't connect on standard chat roulette sites because of their firewalls or internet providers – most users will never go back to such competitor site that did not work for them. P2P can be disabled to provide fast reliable streaming for everybody.
Big webcam panels on top of layout, because picture is what's important on a webcam chat site.
Sounds when other user enters, leaves and buzz button: very useful when user is waiting or chat window remains in background.
Users have the option to login with Facebook and reserve their username on the website. This allows users to chat with their favourite username / nickname.
Facebook application so facebook users can easily access it, share it and become fans.
Webmasters can embed the chat interface on their websites contributing to the viral promotion of the website.
Chat logs with webcam snapshots – great content for people to share with their friends (viral content, too).
Many chat roulette clones don't currently work fine and will never work on active production sites because of amateur developers. VideoWhisper is dedicated to developing and improving video communication projects, as it can be seen on this website. This means real support and further development from experts in this type of software.
All chat roulette clones are based on Adobe Stratus, a free developer service which does not support big commercial projects – meaning most sites will not be able to generate direct revenue. Because the chat application implemented here also works with multiple popular RTMP servers, your site will function even if it turns into a big money generating commercial business and no RTMFP server will be available at that moment.
This is a big popular market and includes many sites like Chatroulette, anoChat, CamStumble, CamToya, CamZap, Catpapo, Chat Roulette, ChatAlternative, ChatClock, ChatHopper, ChatPig, ChatRevolve, ChatRT, ChatVille, FaceBuzz, FaceRoulette, FlipChat, HeyPeople, HeyReddit, iMeetzu, Lollichat, ManRoulette, MoveYourCam, NastySpace, Omegle,  patchRoulette,  RanChat, RandomCams, RudeRoulette, ShufflePeople, Stickam-Shuffle, StirChat, t.vu, TinyChat, Tipitty, VdChat, videoEncounter, ZapandTalk, Zupyo.